SERVICE SCHOOL
The following series of photos is from Camp Robert Smalls, the segregated training camp for black recruits at the Great Lakes Naval Training Center, Great Lakes, Illinois.
To visit the Great Lakes Naval Museum:
Make sure to check out Camp Robert Smalls, where the first black recruits trained for general ratings. Previously, only the steward rating was available to black men. The story of the camp's namesake is an interesting one, too. Robert Smalls led a group of his fellow enslaved sailors who stole a Confederate Navy vessel during the Civil War and surrendered it to the U.S. Navy!! His story will be told in an upcoming PBS special called, "Slavery and the Making of America", to be aired in February 2005.
Photos of Radioman recruits training at Camp Robert Smalls courtesy of the Great Lakes Naval Museum.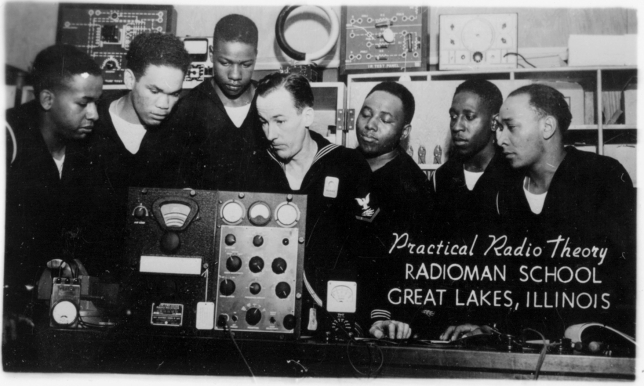 Recruits gather around an RBB or RBC receiver

Recruits Learning to Send Morse Code
Receiving Practice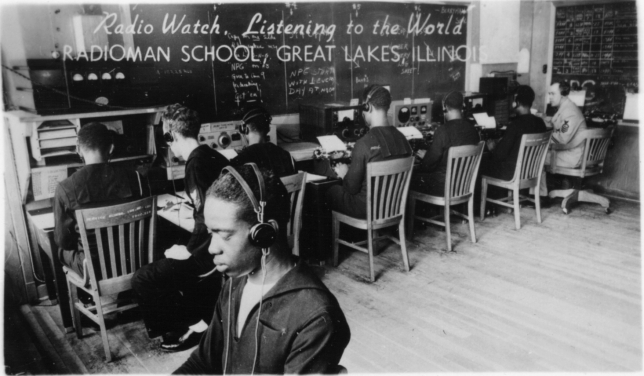 Copying Fox Broadcasts Off the Air
Equipment pictured above(l-r) is: first position-unknown, second position-RAZ LF/MF receiver, third position-RAO or RBH MF/HF receiver, fourth position-RBK VHF receiver, fifth position-RAO or RBH.
RADIOMEN AT WORK