Teletype Model 28 Keyboard Arrangement
The purpose of this page is to document the relationship between a particular key and the Codelever or Function Lever to which it connects.
Why? because you just might need to clean your keys!


photo thanks to Kevin W5TTY
Each Keytop fits onto a Keylever. There are different shapes of Keylever for the different rows of keys
See Keytop and Keylever Parts
The end of each key's Keylever snaps onto a Codelever which actuates the code bars according to that key's character.
There are also keys that perform functions such as "Local Carriage Return".
These keys' Keylevers snap onto Function Levers that activate the desired function.
All the Codelevers and Function Levers are inserted into slots in the Lever Guide. This guide is numbered 1-42
28 Keyboard Codelever Guide Diagram.
Each Keylever connects to one of the types of Codelevers and Function Levers shown at the bottom of the diagram.
The circled numbers indicate the slot into which each Codelever and Function Lever fits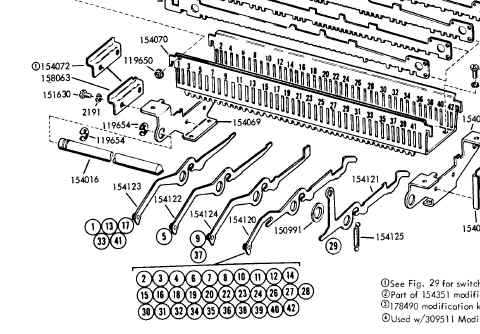 The TP number is the Codelever or Function Lever part number.
SLOT > key (lever)
1 > red LOC-LF (TP154123)
2-4 > FIGS Q A (TP154120)
5 > red REC or KBD-LOCK (TP154122)
6-8 > Z W S (TP154120)
9 > red SEND or KBD-UNLK(TP154124)
10-12 > X E D (TP154120)
13 > red BREAK or HERE-IS (TP154123)
14-16 > C R F (TP154120)
17 > red LOC-R-LF (TP154123)
18-20 > V T G (TP154120)
21 > (not used)
22-24 > B Y H (TP154120)
25 > (not used)
26-28 > N U J (TP154120)
29 > SPACEBAR (TP154121)
30-32 > M I K (TP154120)
33 > BREAK or LOC-B-SP (TP154123)
34-36 > LTRS O L (TP154120)
37 > red REPT (TP154124)
38-40 > LF P CR (TP154120)
41 > red LOC-CR (TP154123)
42 > BLANK (TP154120)
NOTE: red TAPE-B-SP, RUB-OUT, FEED-OUT, etc. activate switches, not Function Lever