NAVCOMMSTA Newport
Newport - Communication Officer Training School - info
NAVCOMMSTA Newport
NAVRADSTA (R) Sachuest Point (Middletown RI) 1964-73
NAVRADSTA (T) Beavertail Point (Jamestown RI)
Beavertail Point Antenna Layout

Document saved by Brown Beezer

List showing antenna type and associated transmitter

I've posted several copies because one might be more readable than another

Sachuest Point

August 2012 - Sachuest Point visitor center - remodeled receiver site?


August 2012

August 2012

Aimed at improving communications for the fleet, the Navy expanded the Narragansett Bay complex by adding a receiver facility at Sachuest Point and a transmitter facility at Beavertail on Jamestown Island, facilities at Quonset Point and at the Naval Communications Station on Naval Station Newport. At that time it was the largest construction project undertaken by Public Works Center in this area. The Sachuest Point receiver facility had a total of eight antenna systems (with nine towers), buried more than 10,000 feet of cable, and excavated 21,000 cubic yards of earth. In addition, they built access roads and reactivated a water supply system to the area. Beavertail Point Naval Radio Station was opened on 4 March 1964. It consisted of twelve antennas and the radio equipment was capable of being remotely controlled from Naval Air Station, Quonset Point, and Newport Naval Base. (photo courtesy of Jamestown Historical Society)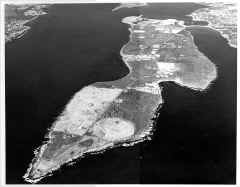 ---
Info from Paul Vincent Zecchino:
While in college during the early '70s, I worked as an 'Engineer Trainee' at USNAVRADSTA (T), Beavertail Point (Jamestown, Conanicut Island, RI). This included brief tours at the receiver site located ten miles east, USNAVRADSTA (R), Sachuest Point ( Middletown, RI) and at NAVCOMMSTA NPT (Newport, RI) located between the Naval War College and the HQ Building, Coasters Harbor Island, Newport.

Sachuest Point had about twenty five TMC FRR-60 Receivers in various configurations, including single and diversity and one VLF FRR-60 for copying NAA Cutler. These were fed by several multi-couplers connected to at least two Collins Rotatable HF Log Periodic Antennas, several Conical Monopoles and a Fixed Log Periodic, among others.

Beavertail Point had seventeen TMC AN/FRT-39 10KW, ten TMC URT-19 1 KW, two TMC AN/FRT-40 40 Kw transmitters, and one Continental Electronics AN/FRT-72 100 KW Transmitter. The latter operated on 129.5 KHz and sent multiplex broadcasts to the fleet. The '72, through a Helix House, fed a 600' tall top-loaded Nord antenna, designated '1-JULIET'.

I first visited Beavertail as a young teen, shortly after it made the news when a small plane struck one of 1-JULIET's guy wires during early morning fog.

Beavertail's antenna farm was similar to albeit larger than Sachuest's. We had one Granger wire-element Rotatable Log Periodic, at least three Collins Rotatable Log's, one fixed HF Log which faced south (as did its Sachuest counterpart), the aforementioned 1-JULIET, and a dozen or so each, of Conical Monopole and Inverted Cone Antennas cut for various four-octave HF freq ranges.

Beavertail was located on 135 acres just north of Beavertail Lighthouse.

We transmitted multi-channel and RATT fleet broadcasts as well as TACAMO relays. We handled HF circuits for Sub Base New London, CT as well as AM comms for Newport Harbor Control, which also ran regular CW drills.

NAS Quonset COMMSTA and COMMSTA Newport relayed traffic to us via landline. Beavertail coordinated comms with Sachuest, Quonset, and Newport via teletype located in the transmitter console, where we also had a TMC FRR-60 VLF to copy NAA Cutler, along with an R-390A receiver.

We handled Quonsets RAZZY HF comms to aircraft, ships, and bases, along with its AM GCA circuit, and a couple of discreet ASW USB freqs used by Quonset's many S-2 Squadrons.

Never did a day pass that COMMSTA Norfolk and/or COMMSTA WASH didn't request us to relay comms to a ship or bird that they couldn't hear. We never had need of them to return the favor. Beavertail and Sachuest were superbly sited, so it made sense for McNamara to close them by 1974.