RLPA - Rotatable Log Periodic Antenna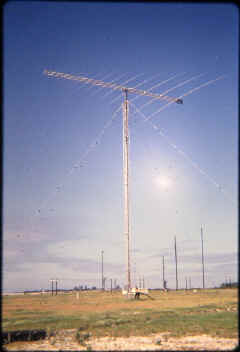 RLPA - Rotatable Log Periodic Antenna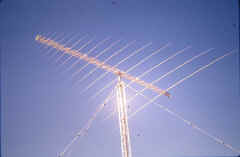 Antenna farm - pressurized nitrogen-filled feedline

RLPA - Rotatable Log Periodic Antenna at the old transmitter building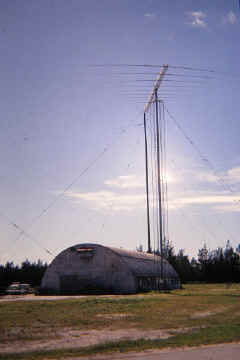 Comments from Charles Kinzer: "The VERY large Quonset hut building was the original transmitter site. It just had a bunch of old equipment stored in it. Fun to prowl around in. It helps show the height of one of the three rotating log periodic antennas that were there. I was told, at the time, they cost a quarter million per antenna to get those installed. Hard to believe.

A word about the ITT Kellogg microwave link equipment: "Midway Island" is really a misnomer and it is really the "Midway Islands" or "Midway Atoll". There are two islands, Sand and Eastern. Transmitters, and the radio control building and most things were on Sand Island. Receivers on Eastern Island. Two 101 pair undersea cables connected the islands. One was the Navyís and the other owned by the telephone company. A ship had passed between the islands dragging an anchor and tore out one of them. I forget which, but I think it was the Navyís cable and we were now using the telephone company cable. The microwave link was a backup and had 101 multiplexed/demultiplexed channels. The large silver colored knobs you see are monster rotary switches that switch all 101 signals from cable to microwave link. This equipment was in its own room in a corner of the building, usually quite cool in temperature, lights out, and was highly reliable although not perfect.

There was also a scatter site on Eastern Island which had become obsolete when I was there (1966-1968) and they had an exercise where UDT guys arrived via a submarine, swam to shore, set charges, and blew up the really tall towers for it. Then the UDT guys hung around awhile and one of them had gotten into BIG trouble by having a little American flag tattooed on his shoulder. They didnít want anything on them to identify them as American. That sort of reminded me that they were in a dangerous line of work.

Finally, even though the large concrete "radio control" building nearby on Sand Island was in charge of everything, all of the audio for patching went to and from the transmitter site, not them. (The 101 pair cable from Eastern Island came to us as well as the backup microwave link.) The transmitter site was the center of all that. Even the Ham Radio club located in the big Air Force hanger had audio to us and, yes, occasionally (but very rarely) we would put them up on an AN/FRT-39 and connect it to an RLPA aimed where they asked us. "